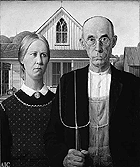 American Gothic
American Regionalists
painting
1930
Grant Wood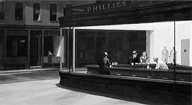 Nighthawks
American Regionalists
painting
1942
Edward Hopper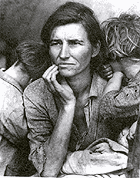 Migrant Mother
American Regionalists
photography
c. 1930
Dorothea Lang
AMERICAN REGIONALISM
The American Regionalist movement began in the late 1920's and continued through the Great Depression. Artists of this period relied heavily on government work programs. The most famous of these is the Works Projects Administration or WPA, created a variety of large scale projects and employed Americans throughout the years of the Great depression. Most projects were focused on the national infrastructure including, highways, railways, post offices, schools, etc. Many excellent examples of American Regionalist style can be found in 1930's era post offices and government buildings.
Painters from the time include Thomas Hart Benton, Edward Hopper, Grant Wood, and John Stuart Curry.
Grant Wood's American Gothic, 1930, is considered a masterpiece of this era because of the way that it seems to depict the solemnity and hardness of farmers in the Midwestern United States. This painting reflects the sincerity and work ethic of the American spirit. The American regionalists, like the Luminists, were interested in creating an image of the American character during tough economic times.
Young Corn, 1931
Midnight Ride of Paul Revere, 1931
Edward Hopper, who worked in the northeastern United States and Midwest, also looked to reinvent the American identity. His works depict architectural settings and a sense of loneliness. He also focused on the characteristics of light (a favorite of the Luminists).
Early Sunday Morning, 1930
Photographers of the same era, Lewis Hine and Dorothea Lang, were interested in reflecting the state of people in the harsh conditions of the Great Depression.
CANADA
20th Century Canadians also looked to the landscape as an expression of national identity. The Group of Seven was devoted to portraying the harshness and stoic beauty of the Canadian wilderness. It helped to give a separate identity to Canada.
Emily Carr
Strait of Juan de Fuca, c.1936
A Haida Village, c. 1929
Others in the movement include: J. E. H. McDonald,Tom Thomson, Frederick Varley, A. Y. Jackson, Lawren Harris, Arthur Lismer, Frank Johnston, Franklin Carmichael, Lionel Fitzgerald, Edwin Holgate, A. J. Casson