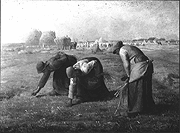 The Gleaners
French Realism
oil on canvas
1857
by Jean-Francois Millet
Third Class Carriage
French Realism
oil on canvas
1863-65
by Honore Daumier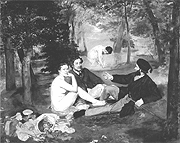 Luncheon on the Grass
French Realism
oil on canvas
1863
by Edouard Manet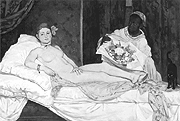 Olympia
French Realism
oil on canvas
1863
by Edouard Manet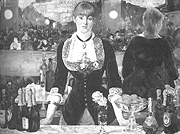 The Bar at the Folies-Bergere
French Realism
oil on canvas
1881-2
by Edouard Manet
REALISM
-comes from direct observation of society and nature
-time of great change in society
Immanuel Kant-theorized the importance of the "disinterested viewer," that is the process of evaluating a work without sentiment based on the formal qualities of the piece.
G.F.W. Hegel-saw art as a sort of "conscience" for the world and believed that it should exist on the perimeter of society to reflect and critque society. He said that the clash of contrary principles helps society progress.
French Realist Painting
-portrayed "proletariat" or working class or direct observation of nature
The Barbizon School
-group of landscape painters who worked in the "open air" not in studio
-created picturesque landscape paintings
-considered "lowbrow" by Academy
Jean Baptiste Corot (1796-1875)
-worked directly from nature
-tried to portray subjects from "life"
-began as an academic painter like many of the Salon painters of the time (example: Bougereau)
Jean-Francois Millet (1814-75)
-depicted peasants and working people
-elevated genre to higher level
The Gleaners- 1857, oil on canvas, 2'9"x 3'8"
-view of peasants and pulling the last fragments of straw from a field
Gustave Courbet (1819-77)
-created allegorical paintings about society
-Burial at Ornans, 1849-50, oil on canvas
-The Painter's Studio Studio (A Real Allegory of Seven Years of My Life), 1855, oil on canvas, exhibited by itself at Paris World's Fair.
Honore Daumier (1808-79)
-caricaturist and artist
-did political satire and was imprisoned for offending the King (Gargantua).
-often used lithography as a medium. Lithography is a process where an artist will work directly on a special kind of stone with a grease pencil. The artist then "fixes" the image into the stone by adding a gum arabic and nitric acid solution. This causes the greasy pencil lines to adhere to the stone and attract ink. It also causes the undrawn areas of stone to attract water, and repel ink. Because the ink is sitting on top of the stone, one can make an infinite number of prints on paper.
Rue Transonian, lithograph, c.1830's
Third Class Carriage, 1862, oil on canvas
-portrays life and class within French society
Edouard Manet
-used familiarity and confrontational views to shock and comment on society
-believed that a good painting is true to itself
Dejeuner sur L'Herbe (Luncheon in the Grass), 1863, oil on canvas, 7'x 9'
-depiction of recognizable figures with a nude in public setting
-color builds from muted in background to bold in foreground
Olympia, 1863, oil on canvas
-recognized prostitute depicted as a Greek goddess. This contradicted theories of morality in Classicism by confronting a viewer with reality.
Bar at the Folies-Bergere, 1881-2, oil on canvas
-reflection of the seemy side of Parisian aristocracy
-the "real" is shown through the familiarity of the subject