David Dale Owen was a leading nineteenth-century American geologist. He resided in New Harmony, Indiana, a town purchased by his father, social reformer Robert Owen, in 1825. In New Harmony, Dr. Owen headquartered two federal geological surveys and the first official state geological surveys of Indiana, Kentucky, and Arkansas.

The definitive biography is

Walter Brookfield Hendrickson, David Dale Owen: Pioneer Geologist of the Middle West, Indiana Historical Bureau, Indianapolis, 1943.

A magnificent shorter treatment, within the context of other early American geological surveys, is

Mary C. Rabbitt, Minerals, lands, and geology for the common defence and general welfare, volume 1, Before 1879, U. S. Government Printing Office, 1979.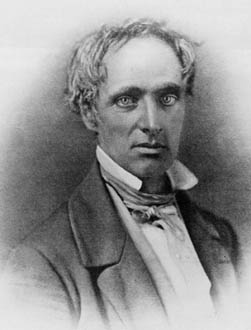 Image of David Dale Owen used by permission of Smithsonian Institution Archives, RU 7177, George P. Merrill Collection.