CD Cover Project: Process Printing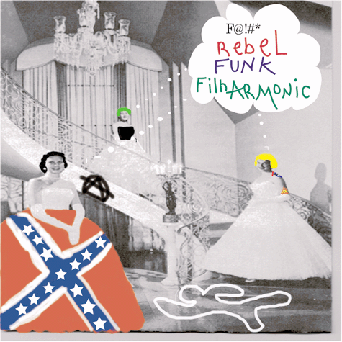 example by J. Gilbertson, Fall 2000

Rebel Funk Filharmonica
Create a CD cover for the fictitious musical group Rebel Funk Filharmonica. This should be an original design, although you may research the assignment by looking at other CD covers.
Size requirement: must fit in a CD "jewel case"
Resolution: 300 dpi
Mode: CMYK
Parts of the Final Phase:
The final printed version must be printed with crop marks. This should give a professional printer an idea of how the final cover will look and show where to cut. Other inserts may also be added, i.e. lyrics, bar code, producer, record label, etc. can be added. The more professional this looks; the better the grade.
Print a second flat original and cut it to size and specifications to fit the jewel box. You will need to import the Photoshop document into Illustrator to apply the Crop Marks. You may also want to create a circular label for the CD. Put a label with your name, username, and project name "cover."
There are four components that need to be created:
a flat color print with crop marks
a cut printed original in Jewel case
a 300 dpi .psd file
an Illustrator file with crop marks.
Place the digital artwork in the Hand-in folder with the name:cover-userid.psd and cover-iserid.ai. Turn in two printed materisl with name.
100 points total- All elements of this project due 5 pm., November 20, 2003