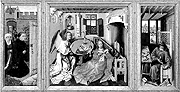 Merode Altarpiece
Northern Renaissance
oil on wood
1425-30
by Robert Campin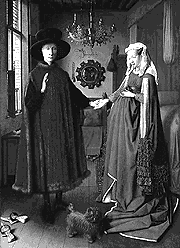 Arnolfini Wedding Portrait
Northern Renaissance
oil on wood
1434
by Jan Van Eyck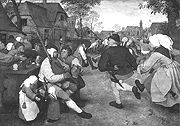 Peasant Dance
Northern Renaissance
oil on wood
1567
by Pieter Breughel
NORTHERN EUROPEAN RENAISSANCE
The Renaissance in the North of Europe varied from Italy in several ways:
-there was little influence or evidence of Classical ideals
-architecture and sculpture were not well developed in the North
-painting was the art form of choice and the Northern Artists used great detail
-primarily used oil paint and used a technique called glazing
Glazing is a style of oil painting that employs the application of thin layers of paint that are transparent. By building up the layers, one can achieve a great deal of depth in a painting and the work also conducts light. Light will pass through the layers, then be reflected back out making the painting very luminous.
Most Northern Renaissance artists studied in Italy
Fifteenth Century Flanders
Merode Altarpiece, Robert Campin (Master of Flemalle), 1425-30, tempera and oil on wood, central panel is 25"x 25"
-triptych (3 panels)
-shows an average house and Biblical characters
Jan van Eyck and (Hubert van Eyck), 1390-1441
Arnolfini Wedding Portrait, 1434, oil on wood, 32"x 23"
-full of symbolic imagery: dog (fidelity), mirror (eye of God), fertility symbols
-record of a real event
-artist is shown in the mirror on the back wall
-great deal of detail
Sixteenth Century Painting in Northern Europe
Hieronymous Bosch, 1450-1516
Garden of Earthly Delights, c. 1505-10, triptych, oil on wood, 12' long (open)
-Heaven on right panel, Hell on left panel
-center panel is full of images about earthly pleasures
-moralistic triptych, that comments on sin
-fantastic, surreal images
-Bosch was unique in his time
Pieter Brueghel the Elder, 1525-69
The Peasant Dance, c. 1567, oil on wood, 3'9"x 5'5"
-people overindulge in the presence of religious icons
-genre scene (everyday life)
Hunters in the Snow
Matthias Grunewald, (d. 1528)
-did the Eisenheim Altarpiece which is characterized by the great amount of emotional and evocative painting. The exterior of the altarpiece depicts the Crucifixion of Christ and the interior the Resurrection.
Hans Holbein the Younger, (1497-1543)
The Ambassadors, oil on panel
-uses anamorphic projection for skull on lower section of painting.