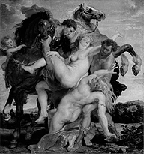 Rape of the Daughters of Leucippus
Flemish Baroque
oil on canvas
1618
by Peter Paul Rubens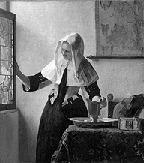 Woman Holding a Water Pitcher
Dutch Baroque
oil on canvas
1664-5
by Vermeer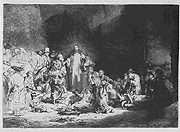 The Little Children Being Brought to Jesus (100 Guilder Print)
Dutch Baroque
etching
1647-49
by Rembrandt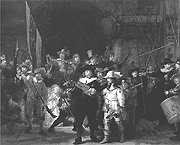 The Company of Frans Banning Cocq (Nightwatch)
Dutch Baroque
oil on canvas
1642
by Rembrandt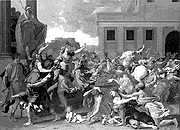 Rape of the Sabine Women
French Baroque
oil on canvas
1636-37
by Nicholas Poussin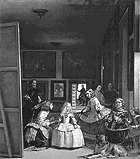 Las Meninas
Spanish Baroque
oil on canvas
1656
by Diego Velasquez
BAROQUE IN EUROPE
Flanders
Peter Paul Rubens (1577-1640)
-wealthy trader, diplomat, and artist from Flanders
-influential in art because he bucked trends and worked in a painterly fashion (the brush strokes were active and easily recognized in the painting.
The Garden of Love, c. 1630-32, Oil on canvas
Rape of the Daughters 0f Leucippus- c.1635, oil on canvas, 6.5'x 8'
-active painting with sensual overtones
-mythological subject at the time of the Reformation
-soft, painterly look
The Netherlands
Rembrandt van Rijn (1606-69)
-conveyed character and drama through his use of dark and light
Self Portraits- conveyed these ideas of character in light and shadow
-they are also a chronicle of a person's life, because he did them each year
-Rembrandt was an excellent printmaker. He used a process called etching. This is a process that involves scratching into a metal plate, which has been covered with an acid-resistant coating, then dipping the plate in acid until it mars the surface of the plate. The plate is then washed, ink is pushed into the grooves left by the acid, and finally it is printed on paper.
The Little Children Being Brought to Jesus ("The 100 Guilder Print"), Completed 1647-49, Etching and drypoint, 1st state
The company of Frans Banning Cock preparing to march out, known as the Nightwatch, 1642, Oil on canvas
Abraham and Isaac, 1634, Oil on canvas
Jan Vermeer (1632-75)
-master of light and perspective.
-works were technically correct to the finest detail
-Dutch banker and mapmaker
View of Delft, c. 1660-1661, Oil on canvas
The Art of Painting, c. 1666-1673, Oil on canvas
Woman Holding a Water Pitcher- c.1664-5, oil on canvas, 16"x 15"
-exceptional perspective, convincing 3-D space
-dramatic lighting
-high detail
France
Nicholas Poussin
-used Classical subject matter
-allegorical painter (he used a picture of mythological scenes to convey ideas about Christianity) allegories are intended to convey an idea through analogy and metaphor.
-saw a connection between art and music
-Most painters of the 17th and 18th Centuries allied themselves with either the Rubenists (bright vibrant color, painterliness, and exuberant brushwork) or the Poussinists (classical, idealist, and used a limited palette).
The Rape of the Sabine Women, 1636-37, Oil on canvas
Landscape with the Funeral of Phocion, 1648, Oil on canvas
Phocion was a Greek who was executed because he would not conceal the truth. It is a comment on the Stoic nature of Phocion and reflects this in its sharp detail and calm.
Spain
Diego Velasquez
-court painter for Philip IV of Spain
Las Meninas, 1656, Oil on canvas
"Maids of Honor" (English translation) is a view into the artist's studio and the Royal family's lives.
Innocent X, c. 1650