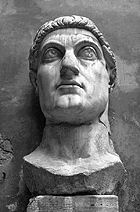 Head of Constantine
Late Roman sculpture
Rome
c. 300 AD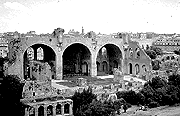 Basilica of Constantine
Late Roman architecture
Rome
c. 300 AD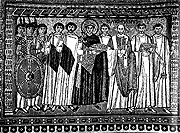 Emperor Justinian and Attendants
Byzantine
tile mosaic
540-547 A.D.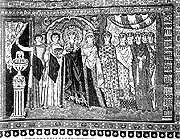 Empress Theodora and Attendants
Byzantine
tile mosaic
540-547 A.D.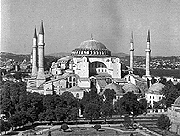 Hagia Sophia
Byzantine
architecture
537 A.D.
EARLY CHRISTIAN ART AND ARCHITECTURE
Christianity was a sect of Judaism. Because it is a messianic offshoot which believes that God came to earth in the guise of his Son, Jesus, there is a recognized visual form of God as Man. This allowed for images of "God" to be made in the likeness of Jesus. Visual forms became important in the development of the Christian Church.
Origen and Clement of Alexandria debated the issue of visual imagery in the Christian Church in the 3rd Century. Most of the resolutions which grew out of these debates regarded painting as being more appropriate for the Church. This was because painting was only an illusion of two-dimensional space and thus not a true representation of three-dimensional reality.
-Early Christian period-@ 33-400 AD. Constantine made it acceptable with the Edict of Milan 313 AD, which stated that Rome would tolerate all religions
-Byzantine period-@ 400-1300, when Roman leadership moved to East
Symbolism
-ichthus-

fish symbol used by early Christians who worshipped in secret.
-a favorite theme was "Christ as the Good Shepherd" which was camouflaged as Hermes Criophorus, a Roman god image, in the early days during Christian persecution.
-catacombs-sacred burial areas where Romans would not pursue Christians
-Christians would draw the ichthus symbol near their meeting places in the catacombs so that others could find them.
-The Chi Rho was a symbol using the first two letters of Christ's name (in Greek). It became a symbol of Constantine's victory.
basilicas
-used as public gathering places for large groups of Christians after the Edict of Milan.
-Made up of the following areas:
Apse-the sanctuary area where the altar was located
Transept-a section that crosses the main section
Nave-the central open area leading from the front door to the apse
Aisle-placed on the sides leading toward the front
Narthex-open area just before entering nave
Atrium-from the Roman house, it is a foyer or receiving area near the entrance
Churches from this era had the apse end of the church facing east so that it would be illuminated in the morning during the Mass (worship service)
Old St. Peter's-Rome, Early Christian basilica, 333-390
-large Early Christian basilica, not to be confused with a Roman basilica, which was used for non-religious purposes.
JUSTINIAN AND THE BYZANTINE STYLE
San Vitale-540-547 AD, Ravenna, Italy, brick facing
-centrally planned
-decorated with mosaics and marble
-gold was used in mosaics
-tiles slightly cocked to help illuminate interior
mosaics -were made up of small pieces of ceramic called tesserae
The Court of Justinian and the Court of Theodora-apse mosaics,
-the Holy Roman Emperor Justinian and his wife is placed at the center with attendants on either side.
-this was placed in the apse at the front of the worshippers
-made up of many tiny tiles
Hagia Sophia-Constantinople, 537 AD,
-large dome supported by buttresses
-pendentives used in corners, transitions between square and round
-mosaics
-minarets (Islamic prayer towers) were added later.