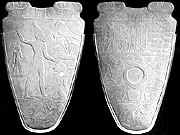 Palette of Narmer
Ancient Egypt
sculptural object
@ 3,000 B.C.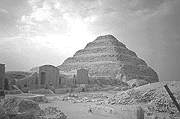 Pyramid of Zoser, by Imhotep
Ancient Egyptian
limestone architecture
2750 B.C.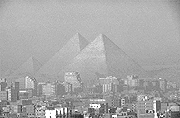 Great Pyramids at Giza
Ancient Egyptian
limestone architecture
2570-2530 B.C.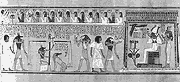 Judgement before Osiris
Ancient Egyptian
painted papyrus
1285 B.C.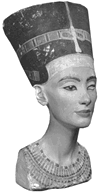 Bust of Nefertiti
Ancient Egyptian
painted limestone
1360 B.C.
ANCIENT EGYPT

-Lasted about 2500 years, longer than the time from Christ's birth to today.
-began about 3000 BC when Narmer united Upper and Lower Egypt.
-Old Kingdom-2700-2100 BC
-Middle Kingdom-2100-1700 BC
-New Kingdom-1600-1000 BC
-525 BC Persians conquered Egypt, 332 BC Alexander the Great
Palette of Narmer- ritual object, c. 2700 BC, slate
-Egyptian artistic conventions use a hierarchical order. either side or frontal views are used in Egyptian style for simplification and a "readable" orderly style.
-Narmer is in the center of the palette, and is largest figure.
Sculpture and Painting
-adhered to rigid sculptural conventions or canons (rules). These rules, like the laws of Egypt had to be carefully followed by artists.
Writing
-hieroglyphics-picture writing that is not as abstract as cuneiform.
Religion
-Egyptians believed in polytheism (many gods).
-Death and the preparation for death was an integral part of Egyptian life. Objects and images of the dead person were put in the tomb so the ka (soul), of the person could enter into it. Proper embalming was essential. The jackal-headed god, Anibus was the embalmer of the dead. It was his duty to take the heart of the deceased and weigh it against the Feather of Truth before Osiris, god of the Underworld, and 42 other gods. If the heart was lighter than the Feather of Truth, the ka entered into a contented afterlife.
Monumental Architecture
Mastabas were early pyramids. They were underground burial areas that reflected the importance of life after death in Egyptian religion.
King Zoser's Pyramid was the earliest known pyramid. It used a stepped structure and was designed by Imhotep. Imhotep is the first individual artist recognized for a piece of art or architecture that we have seen. The complex included a running area so that the pharoah could prove his worth during the Sed festival.
The Great Pyramids at Giza- 2570-2530 BC, limestone
-located on the east side of the Nile.
-four sides correlate to the four compass points.
-interiors had a number of different chambers, some false
-also at Giza was the Great Sphinx, half human/half animal
Temple of Queen Hatshepsut- 1480 BC, Sandstone and rock
-Built right into the solid rock. One of 3 major queens, she initiated reforms and large scale building projects in Egypt. She was the first to assert the re-establishment of Egypt's greatness. Her successor Thutmose II saw her as a spendthrift who funneled money away from the military.
Bust of Nefertiti- 1360 BC, painted limestone
-done in Akhenaten's Style (more naturalistic). It reflected the reign of Akhenaten who made massive changes in religion and society. Akhenaten (formerly Amenhotep IV) was a religious zealot who changed the social order and religion of Egypt. King Tutankhamen's grandfather.