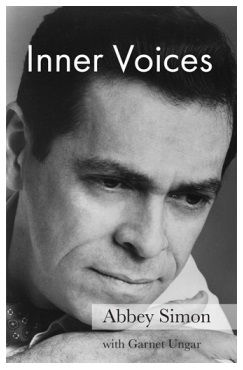 About Inner Voices
Inner Voices

is the autobiography of the world famous pianist famous Abbey Simon, edited by his former student Garnet Ungar. Published in 2017 and available on Amazon, the book traces Simon's artistic and personal journey from his childhood at the Curtis Institute to navigating the thorny business of music and, of course, the music itself. The book also contains several appendices of historical significance.
Excerpts
We had a very dear family friend, Dr. Wanderman, who was a friend of many musicians. He was the doctor for Leopold Godowsky and Josef Hofmann, who was the head of Curtis. He was also a close friend of David Saperton. When I was about eight, Dr. Wanderman brought me to play for Saperton, who wanted me to be brought back to Godowsky's birthday party that night. Hofmann would be there, along with all the most famous musicians in the world. I didn't know all their names, but one name I did know: George Gershwin. I had no real pieces to play, just my own compositions and improvisations. Finally, the time came for me to do my parlor tricks. Godowsky gave me a little theme and said, "Improvise in the Russian style," so I improvised in the Russian style, very Tchaikovsky-ish. He went into a rage and said, "If you are so unsophisticated and have never really taken any lessons, how do you know what is the Russian style?" Apparently, I answered, "Well, anybody who knows anything about music would know that's the Russian style." I never cottoned to Godowsky. I have the feeling that he was irked that I was unimpressed with him, but I was sitting on pins and needles for my chance to meet George Gershwin. Hofmann, however, took a liking to me because I could do the same things he could do as a kid-play anything in any key and improvise forever. I stayed there until about ten o'clock at night, when my father had to take me home. I never got to meet Gershwin, he must have arrived after I left.
-----
During one of my early years at Curtis, I was called upon to play the bass drum in the school orchestra with Fritz Reiner conducting. We were rehearsing Tchaikovsky's Symphony No. 4. The opening of the last movement requires the bass drum to come in precisely at the end of a long line of very fast sixteenth notes. When I had difficulty coming in, I yelled out to Reiner, "I don't understand your beat!" He was so offended that he moved me and the bass drum up to the front of the stage, and when it was time for me to come in, gave me the most enormous beat imaginable.
-----
I had a friend, Nathan Steinberg, who kept saying to me, "You know, you have to play for Dimitri Mitropoulos, he will love your playing." I didn't take it very seriously. How he got to know Mitropoulos, I don't know, but they were good friends. One day in New York in 1945, the telephone rang and Nathan said, "What are you doing now?" I said, "Nothing, I'm home." He said, "I'm coming over with Dimitri." I went into a state of panic. Three quarters of an hour later, they came in and I rushed to the piano. Mitropoulos said, "Calm down!" He was always a sweetheart to everybody, to all young artists. We sat down, and we talked for about an hour, and had a drink, and I made some tea. I don't remember what I played for him. Then I got a letter from Columbia Artists telling me they would represent me, and I was engaged to play with the New York Philharmonic, the Philadelphia Orchestra, and the Minneapolis Symphony.
-----
When I arrived for the first time in Buenos Aires I spent the night at my hotel, and then the next morning, a Monday, I looked up the address of Conciertos Daniel. I walked into the office, where Quesada's son, Ernesto Jr., ran the business. He looked around and saw me and said, "Simon, you're here!" I made light chat with him for a while and finally, I got annoyed and said, "What's happening, you act as if you don't expect me." He replied, "No, you must play here," as if my concert had never been prepared. And it hadn't been prepared. My heart sank. He said, "What are you doing Wednesday?" I said, "For heaven's sakes, I've arrived here for the first time in my life. I don't know a single soul in Argentina. I'm not doing anything on Wednesday!" He said, "I'll make a telephone call" and picked up the phone and there was a long discussion. He said, "If it's alright with you, you'll play a recital 6:30 Wednesday afternoon at the Gran Rex." So, I finally left to walk back to my hotel, but I wanted to see what this Gran Rex was. It was like Radio City Music Hall- huge, maybe 5000 seats. I went back to Ernesto Jr. and said, "Nobody will come to a hall that big to hear me, I'm unknown here." He said, "Don't worry about it, that's our problem." I had no idea how they were going to publicize the concert in one day. The next morning, I woke up, and the entire city was plastered with the announcements of El pianista norteamericano Abbey Simon who would be play- ing this and this program at 6:30 at the Gran Rex. I looked at the program, and there was a work I had never heard of by Roberto García Morillo. I ran back to the office and said, "What is this piece?" "Oh, it's the law here, foreign artists must play a work by an Argentine composer. I picked out a piece for you and you'll have no difficulty playing it. He's a nice composer and one of the leading critics here in town." So, I went to a music store to buy the piece-"Juegos" (Games), the second piece from Esquemas. It was a simple set of variations on a childhood theme-and I practiced it like I was at death's door. Came the concert, and for me, a totally unknown artist, there were probably 2000 people there. I played the new piece while unintentionally adding several thousand of my own variations, and it was a great success. I was playing a pre-war piano, signed by Busoni. He played it in 1905 or something like that. It had lasted all those years, and no one took particular care of it. The ivory was starting to peel off the keys. I finished with one of my big pieces, the Prokofiev Toccata. At the end, there's this big glissando that goes up-I made the glissando, and I made a little pile of white keys on the floor. One of the audience members even tried to stick them back on. The next morning the newspaper had a caricature of me with the keys on the floor, with the caption El Destructador del Piano. After the recital, my manager said, "What are you doing next Tuesday?" "I don't have anything to do on Tuesday!" "You play again Tuesday afternoon." For that concert, we sold much better than half the hall. They came expecting me to destroy the new piano and were very disappointed when I didn't. Then my manager said, "Well, we play again on Sunday morning at ten thirty." I said, "This is a Catholic country, everybody goes to church Sunday morning." He said, "They go to concerts Sunday morning," and I sold out the hall.
"Abbey Simon gained international recognition when he won the 1940 Naumburg International Piano Competition, putting him in the heady company of Adele Marcus and his former classmate from the Curtis Institute of Music, Jorge Bolet; more recent competition winners include such luminaries as Stephen Hough and Awadagin Pratt. Called a "supervirtuoso" by the New York Times, Simon has long been regarded as a link to a "Golden Age" of piano playing, one that presumably recalls the virtuosity and expressivity of the late 19th and early 20th centuries. In this autobiography Simon, with the help of his former student Garnet Ungar, recounts his career as a pianist and pedagogue, offering a window into a professional world that has long since evaporated. This book makes no claims to be objective, an approach made eminently clear in Ungar's effusive preface, in which the student's affection and admiration for his teacher are on full display. Simon begins with his childhood in the Bronx, and he reveals himself to be a consummate storyteller. Taking readers through his years as a pupil at Curtis and his close friendship with Bolet, Simon describes a world long gone, one in which Curtis students were simply given grand pianos to compensate for the absence of practice rooms and one in which the annual Curtis Christmas party was a sumptuous, costumed affair. Simon's account of arriving in Buenos Aires in 1955 for concerts amid the chaos of revolution is a highlight of his story, and his description of his time Indiana University's school of music shows just how flexible and serendipitous the world of post-secondary musical training was in those days. The autobiography also covers Simon's time teaching at Juilliard and Houston, during which he maintained a successful concert and recording career. The autobiographical chapters are the best parts of this book, and Simon is indeed a fine raconteur. His descriptions are engaging and vivid, and he provides a glimpse at a more glamorous classical music world than exists today. This is surely worth a read for those interested in Simon's career and in the lifestyle of the concert pianist and celebrity faculty member."
-Fanfare Magazine
Interviews
Unknown Interviewer, October 17, 1968
Concert Grande with Joe Patrych and Bruce Posner, WFUV radio, New York City, May 16, 1983
Concert Grande with Joe Patrych and Bruce Posner, WFUV radio, New York City, November 4, 1986
Studs Terkel, February 19, 1988
Concert Grande with Joe Patrych and Bruce Posner, WFUV radio, New York City, June 11, 1989
Raïssa Blankoff, France Musique, June, 1996
KUHF, Houston Public Radio, October 2, 2011
Recitals
Teatro Colón, Buenos Aires, July 11, 1964
Beethoven: Sonata in A-flat major, Op. 110
Chopin: Sonata No. 2 in B-flat Minor, Op. 35
Metropolitan Museum, New York, March 5, 1965
Liszt: Six Paganini Etudes
Indiana University, 1963-1974
Albéniz: Evocación (beginning missing)
Albéniz/Godowsky: Triana
Beethoven: Seven Bagatelles, Op. 33
Beethoven: Sonata in E Major, Op. 109
Brahms: Variations and Fugue on a Theme of Handel, Op. 24
Brahms: Variations on a Theme of Paganini, Op. 35, Bks. I and II
Brahms: Sonata in F Minor, Op. 5
Franck: Prélude, Chorale, and Fugue
Gluck/Chasins: Melody from Orfeo
Kreisler/Rachmaninoff: Liebesleid
Liszt: Six Paganini Etudes
Liszt: Sonata in B Minor
Prokofiev: Toccata, Op. 11
Rachmaninov: Prelude in E-flat Major, Op. 23, No. 6
Rachmaninov: Prelude in G-sharp Minor, Op. 32, No. 12
Ravel: Gaspard de la nuit
Schumann: Fantasy, Op. 17
Schumann: Variations on the Name "Abegg," Op. 1
Scriabin: Poème, Op. 32, No. 1
Washington and Lee University, Lexington, Virginia, November 19, 1970
(incomplete)
Schumann: Fantasy, Op. 17

Peabody College, Nashville, June 28, 1973
Schumann: Kreisleriana, Op. 16
Beethoven: Sonata in F Minor, Op. 57, "Appassionata"
Chopin: Four Impromptus
Liszt: Réminiscences de Don Juan
Encores: Gluck/Chasins: Melody from Orfeo
Kreisler/Rachmaninoff: Liebesleid
Chopin: Etude in F Major, Op. 10, No. 8
Rachmaninoff: Prelude in G-sharp Minor, Op. 32, No. 12
Hunter College Playhouse, New York, February 13, 1974
Schumann: Kreisleriana, Op. 16
Beethoven: Sonata in F Minor, Op. 57, "Appassionata"
Chopin: Four Impromptus
Ravel: La Valse
Encores: Gluck/Chasins: Melody from Orfeo
Kreisler/Rachmaninoff: Liebesleid
Chopin: Etude in F Major, Op. 10, No. 8
Rachmaninoff: Prelude in G-sharp Minor, Op. 32, No. 12
University of Houston, April 7, 1978
(incomplete)
Chopin: Sonata in B Minor, Op. 58
Ravel: Gaspard de la nuit
Liszt: Réminiscences de Don Juan
Encores: Chopin: Trois Nouvelles Études No. 1 in F Minor
Kreisler/Rachmaninoff: Liebesleid
Gluck/Chasins: Melody from Orfeo
University of Houston, February 24, 1980
Beethoven: Sonata in F Minor, Op. 57, "Appassionata"
Schumann: Carnaval, Op. 9
Liszt: Six Paganini Etudes
University of Houston, September 5, 1980
Beethoven: Sonata in D Major, Op. 28, "Pastorale"
Beethoven: Sonata in E-flat Major, Op. 81a, "Les Adieux"
Beethoven: Sonata in A-flat Major, Op. 110
Beethoven: Sonata in F Minor, Op. 57, "Appassionata"
University of Houston, February 26, 1982
Schumann: Fantasy, Op. 17
Brahms: Variations on a Theme of Paganini, Op. 35, Bks. I and II
Ravel: Valses nobles et sentimentales
Kreisler/Rachmaninoff: Liebesleid
Kreisler/Rachmaninoff: Liebesfreud
Encores: Chopin: Nocturne in F-sharp Minor, Op. 48, No. 2
Chopin: Etude in F Major, Op. 10, No. 8
University of Houston, March 3, 1983
Bach/Busoni: Toccata, Adagio, and Fugue in C Major, BWV 564
Mendelssohn: Variations sérieuses, Op. 54
Chopin: Sonata in B Minor, Op. 58
Liszt: Six Paganini Etudes
Encore: Chopin: Nocturne in F-sharp Minor, Op. 48, No. 2 (ending missing)
University of Houston, January 20, 1985
(incomplete)
Beethoven: Seven Bagatelles, Op. 33
Chopin: Préludes, Op. 28
Encores: Ravel: Ondine
Gluck/Chasins: Melody from Orfeo
University of Kansas, Lawrence, January 24, 1993
Schumann: Kreisleriana, Op. 16
Brahms: Variations on a Theme of Paganini, Op. 35, Bks. I and II
Ravel: Gaspard de la nuit
Prokofiev: Toccata, Op. 11
Encores: Gluck/Chasins: Melody from Orfeo
Kreisler/Rachmaninoff: Liebesleid
Chopin: Etude in F Major, Op. 10, No. 8
Los Angeles County Museum of Art, September 4, 1994
Schumann: Arabeske in C, Op. 18
Schumann: Variations on the Name "Abegg," Op. 1
Brahms: Sonata in F Minor, Op. 5
Chopin: Etude in F Major, Op. 10, No. 8
Gluck/Chasins: Melody from Orfeo
California State University-Sacramento, February 23, 1997
Beethoven: Sonata in E-flat Major, Op. 81a, "Les Adieux"
Schumann: Fantasy, Op. 17
Chopin: Etudes, Op. 10
Kreisler/Rachmaninoff: Liebesleid
Gluck/Chasins: Melody from Orfeo
Rachmaninoff: Prelude in G-sharp Minor, Op. 32, No. 12
University of Evansville, Jan. 29, 2001
Beethoven: Sonata in A-flat Major, Op. 110
Schumann: Kreisleriana, Op. 16
Prokofiev: Sonata No. 3 in A Minor, Op. 28
Chopin: Mazurkas in A Minor, Op. 17, No. 4 and C Major, Op. 24, No. 2
Chopin: Scherzo No. 4 in E Major, Op. 54
Kreisler/Rachmaninov: Liebesleid
Gluck/Chasins: Melody from Orfeo
Chopin: Etude in C-sharp Minor, Op. 10, No. 4
Date and Location Unknown
Chopin: Prelude in E Minor, Op. 28, No. 4
Improvisation
Chopin: Prelude in C Minor, Op. 28, No. 20
Improvisation
Concerti
Liszt: Concerto No. 1 in E-flat Major
Carnegie Hall
April 19, 1948
National Orchestral Association
Leon Barzin, conductor
Brahms: Concerto No. 1 in D Minor, Op. 15
Statsradiofonien Koncertsalen, Copenhagen, Denmark
December 11, 1958
Statsradiofoniens Symfoniorkester
Johan Hye-Knudsen, Conductor
Rachmaninoff: Concerto No. 3 in D Minor, Op. 30
Carnegie Hall
February 11, 1962
New York Philharmonic
Thomas Schippers, Conductor
Adaskin: Capriccio
Carnegie Hall
March 21, 1965
Orchestra of America
Richard Korn, Conductor
Brahms: Concerto No. 2 in B-flat Major, Op. 83
Symphony Hall, Boston
March 24, 1966
Boston Symphony
Erich Leinsdorf, conductor
Rachmaninoff: Concerto No. 3 in D Minor, Op. 30
Bunka Kaikan Hall, Tokyo
June 21, 1966
Japan Philharmonic Symphony
Akeo Watanabe, conductor
Rachmaninoff: Concerto No. 3 in D Minor, Op. 30
Société Suisse de Radiodiffusion et Télévision, Geneva
October 26, 1966
Orchestre de la Suisse Romande
Jean-Marie Auberson, conductor
Dohnányi: Variations on a Nursery Song, Op. 25
Liszt: Hungarian Fantasy
Encore: Gluck/Chasins: Melody from Orfeo
Civic Center Music Hall, Oklahoma City
January 9, 1973
Oklahoma City Symphony
Guy Fraser Harrison, conductor
Mozart: Concerto No. 21 in C Major, K. 467
Carnegie Hall
March 6, 1973
National Orchestral Association
Leon Barzin, conductor
Beethoven: Concerto No. 4 in G Major, Op. 58
Carnegie Hall
March 6, 1973
National Orchestral Association
Leon Barzin, conductor
Brahms: Concerto No. 2 in B-flat Major, Op. 83
Carnegie Hall
March 6, 1973
National Orchestral Association
Leon Barzin, conductor
Live Recordings: Video
Interview: The Chris Moore Show, St. Louis, September 27, 1977
Interview: The Green Room, KUHT Houston, 1978
Interview: PBS 13, New York, March 2003
Damrosch Park, New York City, Date Unknown
Chopin: Polonaise in C-sharp Minor, Op. 26, No. 1
Chopin: Sonata in B Minor, Op. 58
Liszt: Paganini Etudes (selection)
Documentary, University of Houston, 1996
Schumann: Kreisleriana, Op. 16
Unkown Date and Location
Beethoven: Sonata in E-flat Major, Op. 81a, "Les Adieux"
Schumann: Fantasy, Op. 17
Silvermine Concert Series
Beethoven: Sonata in E-flat Major, Op. 81a, "Les Adieux"
Schumann: Fantasy, Op. 17
Chopin: Sonata No. 3 in B Minor, Op. 58
Moores Opera House, University of Houston, February 9, 2007
Schumann: Arabeske in C, Op. 18
Schumann: Variations on the Name "Abegg," Op. 1
Schumann: Fantasy, Op. 17
Chopin: Nocturne in F-sharp Major, Op. 15, No. 2
Chopin: Sonata No. 3 in B Minor, Op. 58
Encores: Grieg: Lyric Pieces, Op. 43, No. 1, "Butterfly"
Kreisler/Rachmaninov: Liebesleid
Chopin: Impromptu No. 1 in A-flat Major, Op. 29
Shanghai Music Festival, 2011
Schumann: Arabeske in C, Op. 18
-------------------------------------------------------------------------------------------------------------------------------------------------------------------------------------------------------------